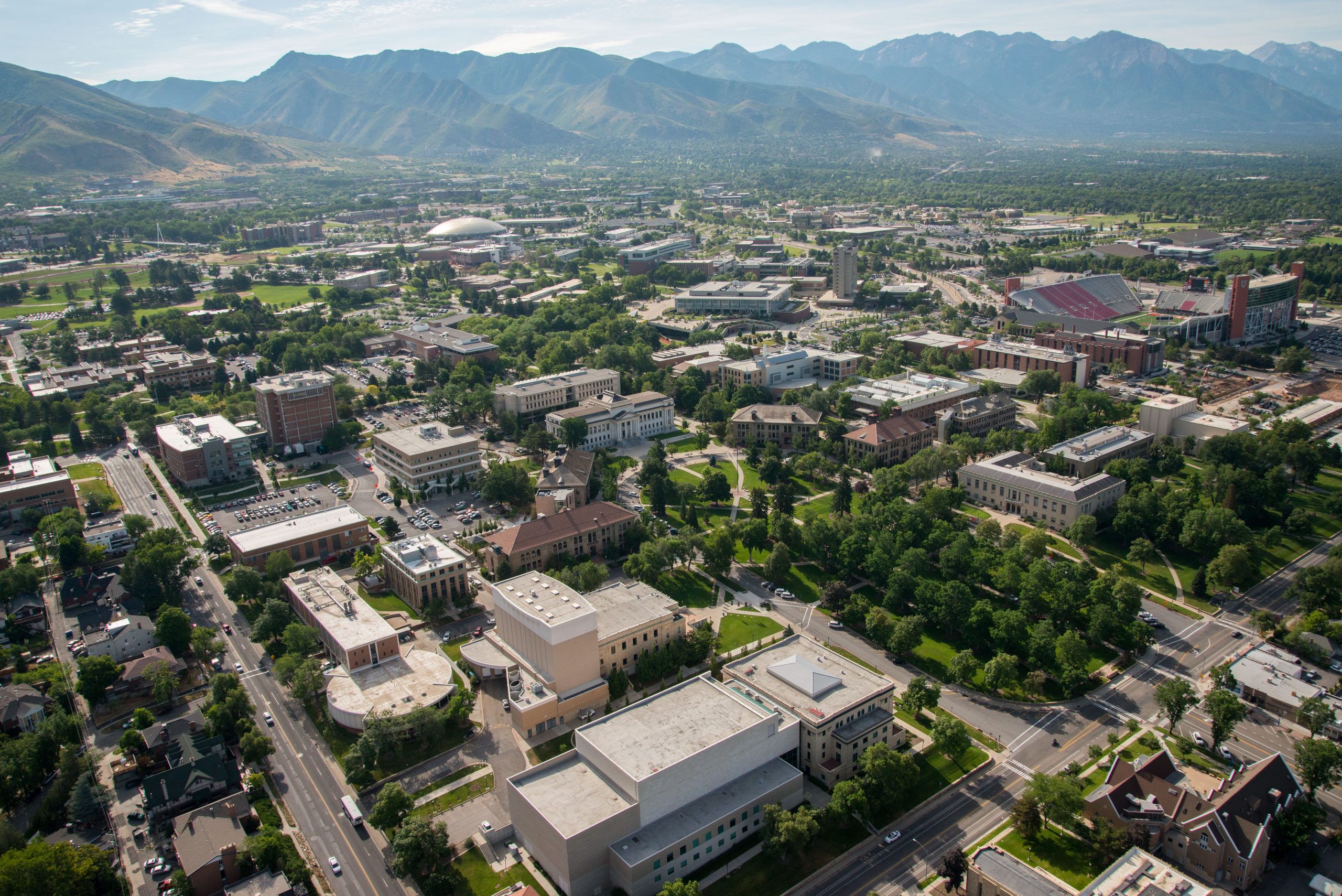 University of Utah Safety recently launched a five-year strategic plan to guide safety efforts into the future and provide a foundation for the growing and evolving department. Developed by representatives from across U Safety, the plan outlines a new vision and mission statement, as well as strategic goals that align with those of the institution.
Vision: Uniting for a safe and empowered campus community
Mission: University Safety cultivates a safe environment by:

Uniting with the campus community to implement safety programs that meet our community needs
Respectfully empowering students, faculty, staff, patients, and visitors with education, training, and resources
Listening to the needs to the campus community with compassion
Advocating for underserved populations
Fulfilling our responsibilities with integrity, transparency, and accountability
Strategic goals:

Achieve operational excellence
Strengthen trust with the community
Invest in talent development and plan for the future
"We take our responsibility to lead campus safety efforts seriously, but we also know it takes all of us to truly create an environment where everyone feels safe, welcomed and respected," said Annalisa Purser, director of administration for U Safety. "This plan focuses on partnering with the campus community to foster a safe environment where all individuals feel empowered and equipped to succeed in their work, medical caregiving, education, and other business with the university."
The plan was reviewed by the Public Safety Advisory Committee and will be updated regularly. More information is available on the University Safety website. 
Each of the three strategic goals includes a set of objectives, strategies and action plans, which provides structure and consistency while also allowing flexibility for updates as situations and circumstances change.  
Goal 1: In order to achieve operational excellence, the plan prioritizes developing, growing, and innovating program and service offerings; improving business processes and systems to ensure consistency and increase efficiencies; and focusing on professional standards. To this end, a new Community Services division was established and has already grown from one to three employees, who are all social workers. A new administrative team was created to manage and coordinate business processes across the department, and a new position was created in 2020 to oversee the department's accreditation and compliance efforts. 
Goal 2: To strengthen trust with the campus community, the department is committed to community service and engagement, strengthening accountability and transparency and supporting students and community education and development. This includes efforts such as creating the Independent Review and Public Safety Advisory committees, hosting Presidential Interns and involving them in policy development and the accreditation process, establishing a SafeU Ambassador program and providing community workshops, such as the Workplace Violence Prevention training that is given to all first-year nursing students.  
Goal 3: Investing in talent development and planning for the future involves enhancing professional development and training, as well as recruiting, hiring, and retaining individuals who support the department's mission and represent the diversity of the community it serves. Some efforts to accomplish this include joining and maintaining memberships with professional organizations, including those focused on supporting and elevating underrepresented groups in the public safety profession; updating internal department awards and recognitions to reflect the new vision and mission; participating in the Intercultural Development Inventory to better understand cultural differences and responses to these differences and develop action plans for increasing intercultural competence; and ensuring employee evaluations reflect the department's values.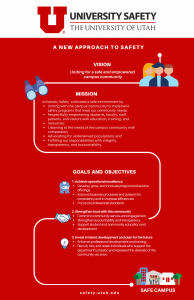 Some additional action items to be addressed during the next five years include:
Updating internal policies to adhere to accreditation standards and to meet the unique needs of the University of Utah community

 

Implementing an early warning system to address concerning behaviors

Earning 

accreditation

 through the Commission on Accreditation for Law Enforcement Agencies (CALEA) and the International Association of Campus Law Enforcement Administrators (IACLEA)

Expanding U Health Security into regional health clinics in order to ensure all U Health employees and visitors receive the same level and standards of protection

Developing and launching a new safety app to provide additional services and features to the campus community

Launching a new records management system that will improve information sharing among law enforcement agencies and allow the department to share data about police interactions on campus

Expanding Emergency Communications services to improve police response and provide more immediate crisis support

Creating an improved process for receiving 

feedback

 from the community and ensuring a consistent and thorough investigation and response

Implement

ing

 a body-worn camera program for University Police

Updating internal policies in order to comply with the U.S. Department of Justice's Standards for Certification on Use of Force and Safe Policing for Safe Communities

Joining the International Association of Chiefs of Police (IACP) 

One Mind Campaign

 to improve response to those affected by mental illness

Making information housed in the Annual Security Report more easily accessible by updating important safety information on the 

SafeU

website

Serving as a practicum site for students from the College of Social Work to both increase capacity and provide valuable real-world clinical experience to students

 
About University Safety
In 2019, the U created a new Chief Safety Officer (CSO) position, filled by Marlon C. Lynch on Feb. 1, 2020. In this inaugural role, he restructured public safety functions at the U, including adding new leadership positions, elevating and growing existing divisions, as well as creating new ones to increase capacity, improve accountability, and better meet the needs of the U community. Instead of all units reporting through the chief of police, all divisions are now separate and report directly to the CSO. This includes U Health Security, Campus Security, Emergency Services, University Police and the new Community Services division.  
CSO Lynch also built a centralized team that supports the entire department and is responsible for strategic initiatives, communication and marketing, budget planning, relationships with external public safety agencies, public safety committee management, security and law enforcement technologies, community engagement and evaluating and improving the campus climate related to safety and inclusion.