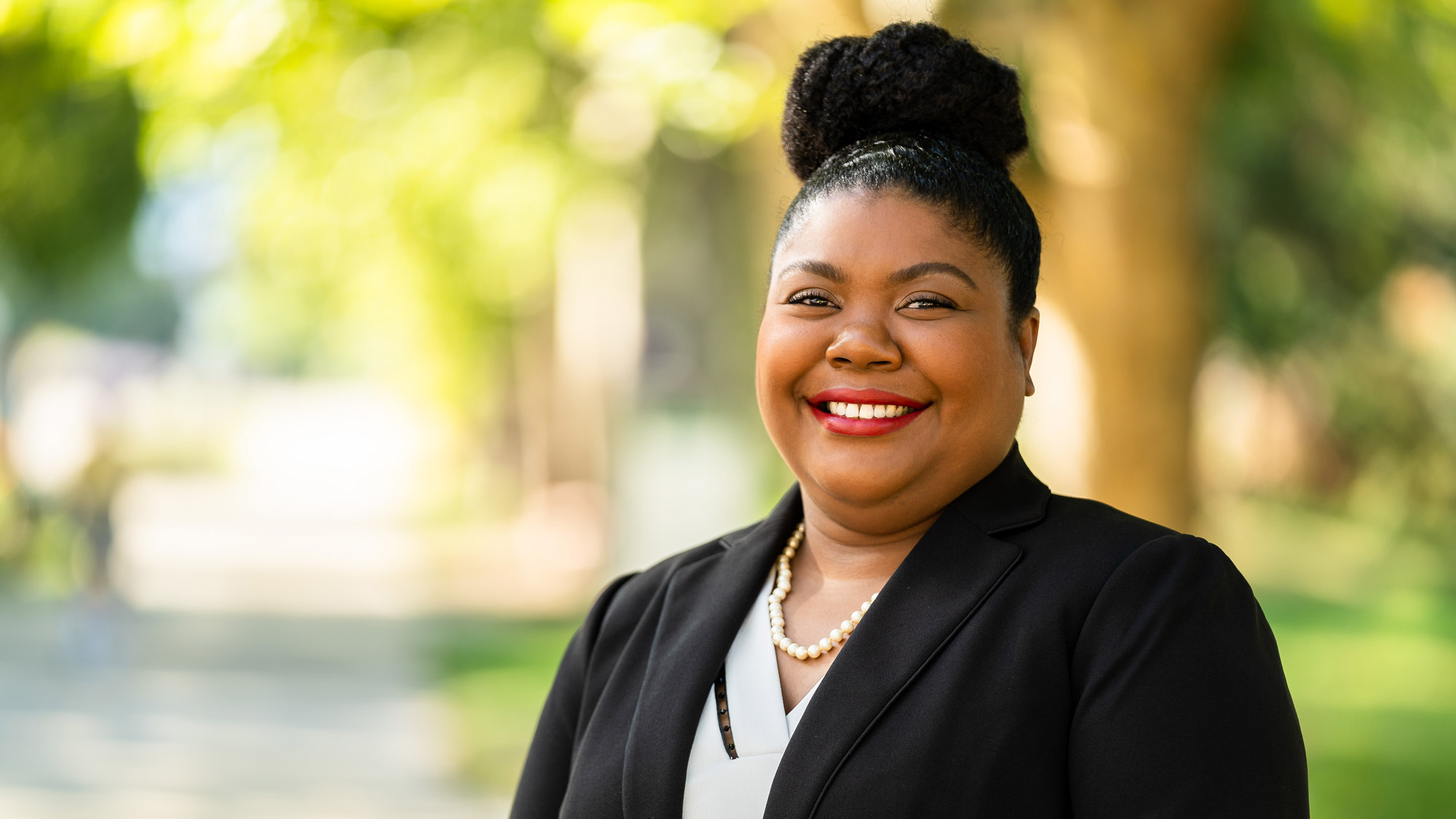 As part of reorganizing and updating safety functions at the University of Utah, Chief Safety Officer Marlon C. Lynch created a new position to direct Campus Security and to oversee public safety compliance and accreditation. The position reports directly to him—elevating Campus Security from its previous position within University Police and facilitating coordination related to compliance and accreditation across all public safety divisions.
Aerin Washington, director of Campus Security, joined the U in spring 2020 to lead this charge, after serving most recently as the crime prevention, accreditation and compliance officer at Tennessee State University. Washington has more than a decade of experience in law enforcement, with an emphasis on campus policing. She also holds a master's degree in criminal justice from Grambling State University and a bachelor's degree in Africana Studies from the University of Tennessee, Knoxville.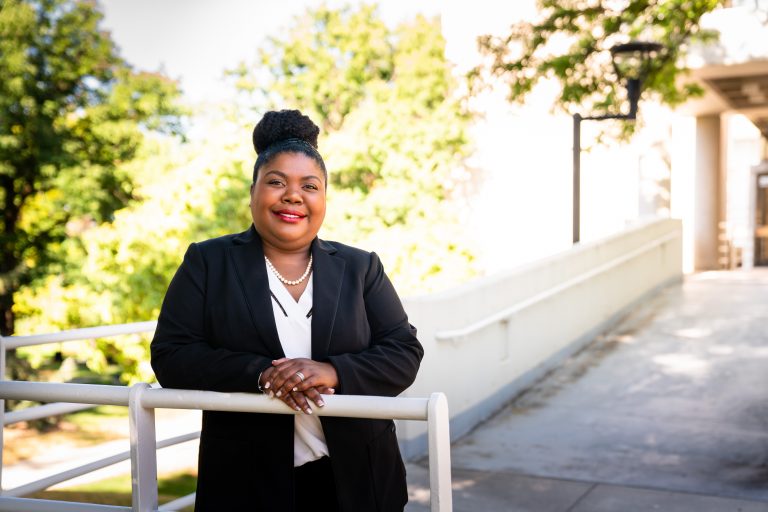 Washington's connection to public safety extends back much farther than her formal career as a police officer. Her father worked in law enforcement on several college campuses while she was growing up, and she had her first opportunity to join him in the work when she was in high school. She volunteered at a law enforcement-focused summer camp for kids at Indiana State University, where he worked. In addition to assisting with trainings and activities, she also served as the mascot—McGruff the Crime Dog.
"Because of my early exposure to campus law enforcement, I feel like this is kind of a calling for me," she said. "I'm passionate about teaching students about safety and setting them up for long-term success."
By the time she went to college, she was ready for a more official role. As an undergraduate, she secured a part-time job as a community service officer at the University of Tennessee, Knoxville, where she participated in the development of crime prevention programming. She also supported the institution's accreditation team by conducting policy research, development and self-assessment with the initial University of Tennessee IACLEA accreditation team.
After completing her graduate studies and becoming a police officer, she worked in a variety of positions, including hospital security, corrections officer and crime prevention officer, where she oversaw community outreach programs.
Washington plans to expand Campus Security with a focus on providing services, offering educational trainings and creating opportunities for student involvement so they can have experiences like hers.
"I am committed to approaching this work with a heart of service," Washington said. "I want this process to be one in which everyone can take an active part in determining how we can best serve the U community."
In addition to directing the Campus Security division, Washington will coordinate with all public safety divisions to ensure compliance and oversee the accreditation process.
Compliance
---
Compliance work is aimed at ensuring public safety efforts meet requirements outlined by Title IX, the federal law that protects individuals from gender discrimination and ensures equal access in educational programs and activities; the Clery Act, a federal law aimed at standardizing campus crime reporting; Utah state laws and university policies.
To strengthen this work, Washington has been designated the Deputy Title IX Coordinator for the Department of Public Safety and meets regularly with campus partners who fulfill similar roles. She has also formalized a Clery Compliance Committee that brings together partners from across the university whose roles intersect with safety. The committee meets monthly to review reportable offenses, identify and develop training for individuals with reporting responsibilities, create and disseminate the Annual Security & Fire Safety Report, among other things.
One change already underway involves an updated process for identifying, tracking and training those designated as Campus Security Authorities (CSAs). According to the Clery Act, CSAs are individuals whose university responsibilities put them in a position to receive and report criminal behaviors. They are required to disclose these statistics for inclusion in the Annual Security & Fire Safety Report. However, confidentiality can be maintained by some CSAs, as only aggregated statistics are reported.
Due to its broad definition, hundreds of university employees are designated as CSAs. These include academic deans, Student Affairs staff, Housing & Residential Education officials, Athletics administrators, student activities coordinators and staff, student peer education advisors and more.
To ensure the university is adequately identifying and training these individuals, Washington is working with Human Resources to develop a process for identifying CSAs as part of their initial hiring. Once positions are identified as meeting CSA requirements, they will be tagged in the personnel management system, and these individuals will be automatically enrolled in CSA trainings, which will be required to be completed annually.
Accreditation
---
The U is seeking accreditation through both the Commission on Accreditation for Law Enforcement Agencies (CALEA), as well as the International Association of Campus Law Enforcement Administrators (IACLEA). CALEA accreditation is recognized as the "gold standard in public safety" and requires that agencies meet an established set of professional standards and best practices. The process is expected to take approximately 36 months and should be completed by mid-2023. IACLEA accreditation builds on this with a few additional requirements specific to higher education and will occur immediately after CALEA accreditation is achieved.
As part of this effort, Washington established a Policy Review Committee within the department that is working to update policies, processes and procedures to meet CALEA standards and address circumstances unique to the University of Utah. The group has identified eight policies to address immediately, including policies on the use of force, criminal investigations, police information systems, domestic violence/interpersonal violence, communications, property and evidence, crime scene management and field interviews. More than 50 policies will be implemented as part of this process.
The U's Use of Force policy was updated in June to ban all devices and techniques that restrict access to air or place an individual in an abnormal position for an extended period of time.
Once developed, many of these policies will be reviewed by a Public Safety Advisory Committee, which will be established in fall 2020 and will consist of students, faculty and staff. This group will meet with Chief Safety Officer Lynch and his leadership team twice each month about a variety of safety issues and will also have the opportunity to provide feedback and make suggestions on policies as they are developed.
Accreditation also requires that certain data be collected and made available publicly, that physical facilities meet specific requirements and that personnel meet standards of professionalism, including implementing processes for investigating and addressing unprofessional behaviors.
The accreditation process will conclude with an external assessment and on-site evaluation that will involve public comment sessions, interviews with various individuals associated with the department, process- and outcomes-mapping and community feedback. Additionally, the U will be responsible for ongoing self-assessments every three years in order to maintain accreditation and be in compliance with the ever-evolving best practices in the law enforcement community.
"I am passionate about this work because we all benefit when public safety functions commit to a set of best practices that are informed by research and field experts," Washington said. "Abiding by these standards is also an important step in ensuring that members of the public receive equitable and fair treatment by security and law enforcement officers."