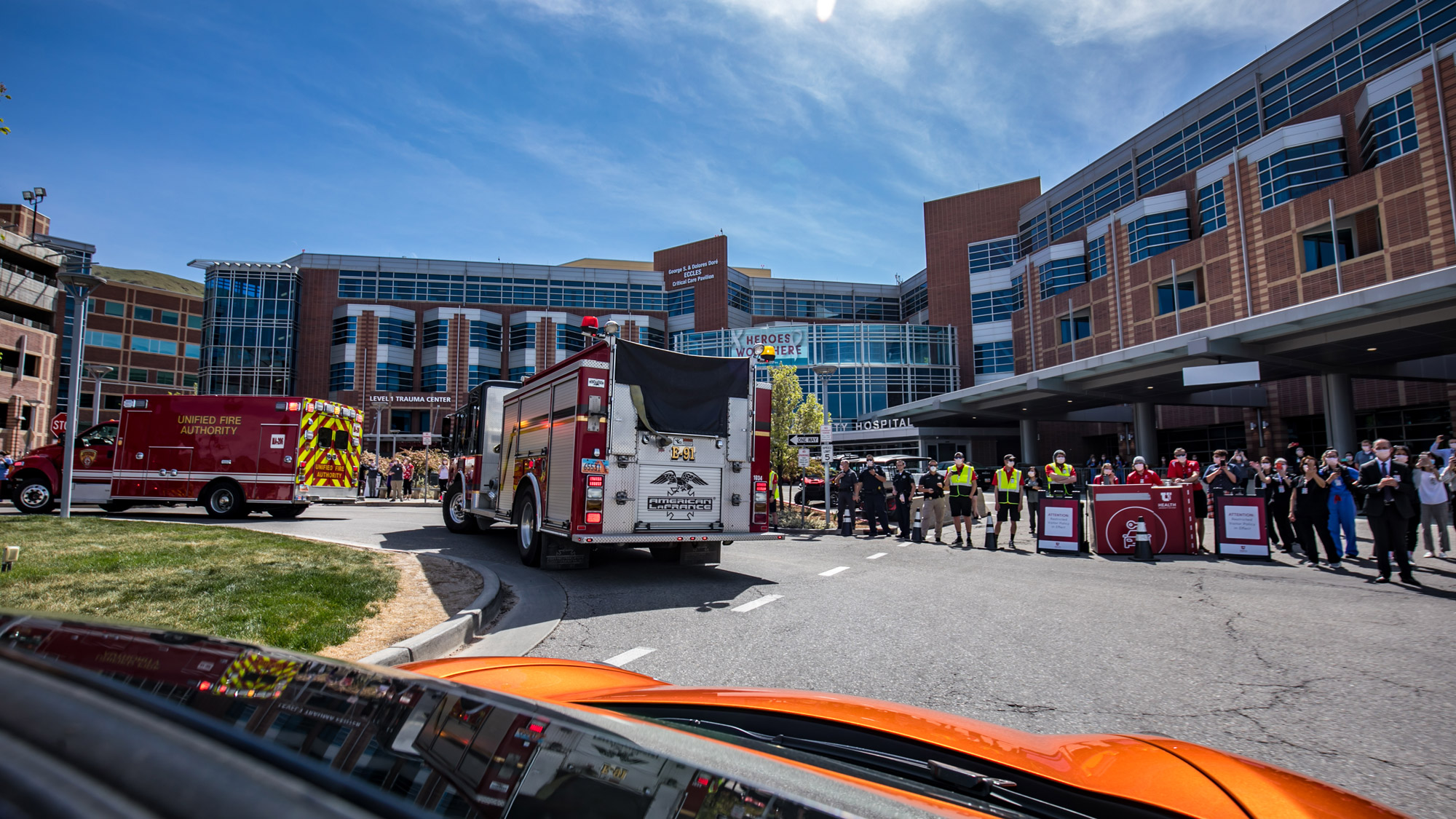 Dozens of first responders in police cars, fire trucks and ambulances paraded by the University of Utah Hospital, Primary Children's Hospital and Intermountain Medical Center on Monday, April 27. The event was designed to recognize and thank front-line workers for their continued dedication to serving the public during the coronavirus pandemic.
South Jordan resident James Roth wanted to do something for the local community after seeing the myriad teacher and birthday parades on social media, as well as a similar health care worker parade in another state.
"I have a lot of friends and family members who work in healthcare and as first responders, and I've seen them face this situation head-on and put their own lives at risk," Roth said. "I've known people who are living in RVs or trailers during this time in order to protect their families, and I wanted to do something to put a smile on people's faces during this difficult time."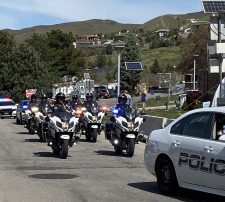 The campus event came together quickly thanks to the efforts of Campus Operations Sergeant and Special Event Coordinator Ryan Speers, who identified a rallying point, a parade route and coordinated officers to direct traffic. The University Police Department also participated in the parade, including a vehicle driven by Chief Rodney Chatman, who joined the U in February.
"We were excited to support this event and help make it a reality," Chatman said. "We miss the energy and excitement typical on campus this time of year, so it was great to be able to celebrate and honor those who continue to work on campus in a way that allowed all participants to practice physical distancing and stay safe."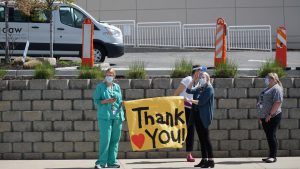 In addition to the university police, the parade also included Salt Lake City Police, Salt Lake City Fire, South Salt Lake Fire, Utah Highway Patrol, Murray City Police, Murray City Fire, Herriman Police, West Valley City Fire, Unified Fire Authority, Bluffdale Fire and two radio stations. Health care workers watched from the sides of the road, from the glass skywalk connecting the University Hospital to Primary Children's Hospital, and at Intermountain Medical Center, many watched from inside the glass building.
Roth experienced the event from both perspectives—he watched the procession on the U campus and rode in the parade at Intermountain Medical Center.
"Health care workers and first responders serve the community together on a daily basis, and I loved seeing the expressions on their faces during this event," he said. "It was much needed and well deserved."