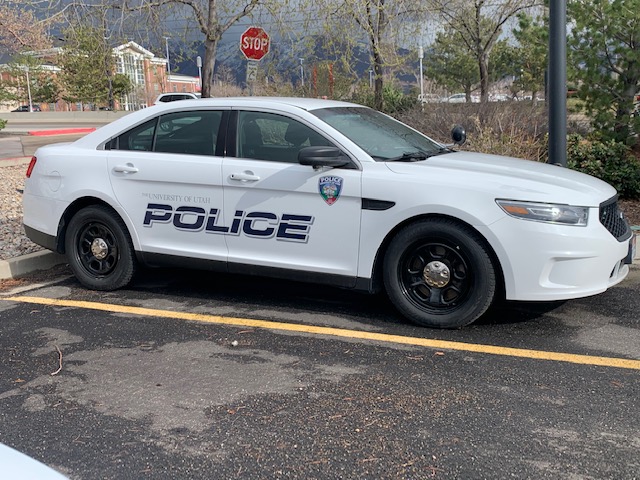 Since Keith Squires was named chief safety officer and director of public safety at the University of Utah, the entire department of public safety has undergone significant changes to provide a safe environment for students, faculty, staff and visitors to enable them to focus on learning, teaching and advancing the mission of the university and enhancing Utah.
The former head of the Utah Department of Public Safety, Squires brings decades of law enforcement leadership experience to the U, where he was originally tasked with reviewing and evaluating the department's actions following the Lauren McCluskey tragedy. The review resulted in 30 recommended changes that have now been addressed.
New leadership
Squires has restructured the Public Safety Department leadership team. This summer, he promoted Lt. Heather Sturzenegger as his executive officer and chief of staff. Sturzenegger is the principal liaison with external public safety agencies and coordinates resources in the department. Squires also added Kimberly Barnett as deputy chief safety officer for support services. She assists in overseeing non-sworn campus security and ensures federal safety reporting compliance, in addition to an evolving portfolio of projects with the new leadership team. A current national search is underway to fill the new position of deputy chief safety officer for police services.
Adding two deputy chief safety officer positions will ensure all personnel works together in the most coordinated and effective way for preventing crime and protectively assisting all members of our community.
Recent recruitment has been designed to build a fresh group of peace officers, specifically selected for their ability to work with the university's unique community. Over 94% of the department's personnel are new to the force since 2019. That turnover comes with improved recruiting, screening and selection processes for police officer candidates with a strong emphasis on acquiring the best possible professionals who want to serve the university's unique community. In addition, the University Public Safety Department has adopted the 30×30 pledge to increase our number of female police officers to at least 30% by 2030. Currently over 10% of our University Police Department are women and women comprise 33% of the leadership team.
"A change in culture takes time," said Squires. "It starts with putting the right leaders in place and consistently working to instill a commitment to service as we protect campus and those who spend time here. I believe we have that group in place and now it's about building genuine relationships."
The Department of Public Safety has also added two key roles, naming Todd Justesen as the new associate director of Clery Programs & Compliance, who will act as the central point of statistics gathering and training for the U's campuses and associated geography, and Nikol Mitchell, the department's first crime data analyst, who is tasked with crunching the numbers to identify crime patterns that guide Squires and his leadership team in appropriate resource allocation.
New approach
Squires and his team are committed to a victim-centered approach to safety, where the victim is the primary concern. The department has established a victim advocate program, a student ambassador program and dedicated personnel to work with hospital staff and security teams.
Mental health is also a focus. The department is training officers to understand mental health challenges to help them better assess situations and react with more de-escalating options.
"We are improving our approach in so many ways," said Squires. "It can be seemingly small things like referring to our officers as Peace Officers, rather than Police Officers that helps define how we approach serving our community. We're also really focused on hiring those with the right skills and temperament to work with a student population and training them for the situations they are, perhaps, more likely to encounter on campus than in another municipality."
University of Utah Public Safety Service Improvements
Establishment of the University chief safety officer position overseeing all police, security, emergency management and public responsibilities.

The current chief safety officer is one of the independent investigators whose critical findings in examining the University's response to Lauren McCluskey's requests for assistance resulted in recommendations for how the U should restructure and proceed to improve its safety and security services for all.

Recently restructured the department with two deputy chief safety officer positions to ensure that all personnel are working together in the most coordinated and effective way for preventing crime and protectively assisting all members of our community.

Improved recruiting and selection of police officer candidates with a strong emphasis on acquiring the best possible personnel who want to serve our specific community. An all new leadership team has been created with 94% of the department personnel being new to the department since January of 2019.

Significantly improved communication and engagement as part of the Behavioral Intervention Team and recently created a new Racial Bias Incident Response Team manager position.

Created a professional standards component in the department to ensure that all complaints against University police and public safety personnel are thoroughly investigated with consistent documentation and appropriate personnel action taken when sustained.

Implemented a personnel management system that documents and tracks all complaints made against the department and its personnel. This system also documents the compliments received and above and beyond performance of our personnel.

Created the Independent Review Committee that reviews and makes recommendations on the departments response and actions related to complaints made against department personnel. This committee is comprised of students faculty and staff.

Created the Public Safety Advisory Committee that regularly meets with the chief safety officer and leadership team to provide input and recommendations related to our services and various issues related to campus safety.

Adopted an intelligence-led public safety model and created a new crime data analyst position to identify trending activity that leadership uses to guide department resources where it is most needed.

Developed a Department communications plan and team with commitment to working with all our community in providing transparency that helps everyone contribute to our campus safety.

Created a victim / survivor advocate team that works directly with our police and public safety officers to provide ongoing support, information and access to all available resources for those who have been harmed by criminals.

Invested in a state-of-the-art public safety building for this new team to operate from and facilitates providing enhanced services to the community.

Significantly increased amount and types of training provided to our personnel with specific emphasis on de-escalation and responding to those who may be experiencing a mental health crisis. Have adopted a victim centered and trauma informed approach to policing. Provide ongoing training to personnel on dealing with interpersonal violence and adopted the Lethality Assessment Program recommended by the Utah Domestic Violence Coalition.

Conducted a recent safety survey of students and staff to establish baseline data and measure the impact of our many recent safety infrastructure changes.

Adopted the 30 x 30 pledge to increase our number of female police officers to at least 30% by 2030. Currently over 10% of our University Police Department are women and women comprise 33% of our leadership team.

Provide increased supervisor involvement with detectives and conduct monthly audits of all cases to ensure they are being effectively investigated with all available resources utilized.

Improved police communication with campus partners. This includes having select partners in OEO, HRE, ODOS having access to our records management systems for cases that impact their areas of responsibility on campus.

Greatly improved communication and coordination between university police and our security divisions. Providing increased training for campus security officers.

Created dedicated officer positions that work as liaisons with student athletes.

Increased number of 911 emergency dispatchers and applied best practice protocols for sharing criminal justice information between adjacent public safety agencies. The new Public Safety building has a specially-designed dispatch center.

The University Department of Public Safety is in process of attaining the Commission of Accreditation of Law Enforcement Agencies (CALEA) and International Association of College Law Enforcement Administrators (IACLEA) accreditations.

In process of migrating to a new records management system that is the same as used by the adjacent Salt Lake City Police Department and all other public safety agencies in Salt Lake County. This will increase our opportunities to share crime and criminal justice information between agencies for the benefit of all communities.

Developed a University Public Safety Student Ambassador program where selected students work directly with the CSO and Public Safety leadership on service-related programs, policy and developing positive community interaction.

Added University Presidential Interns working with the university public safety leadership team.

Thoroughly reviewing and updating all department policies and procedures to reflect nationally established best practices and community expectations.

Developing a working relationship with U Health Huntsman Mental Health Institute MH-1 team and our police so that they may assist officers on emergency calls involving individuals experiencing mental health crises. This will also guide training for officers to help them better understand the needs of individuals experiencing mental health challenges and more effectively helping them.

Establishing a dedicated police unit that works directly with staff, patients, visitors and our hospital security team as part of an overall U Health safety effort. This will build relationships, increase team training opportunities and reduce disruptions to our critical health care services.