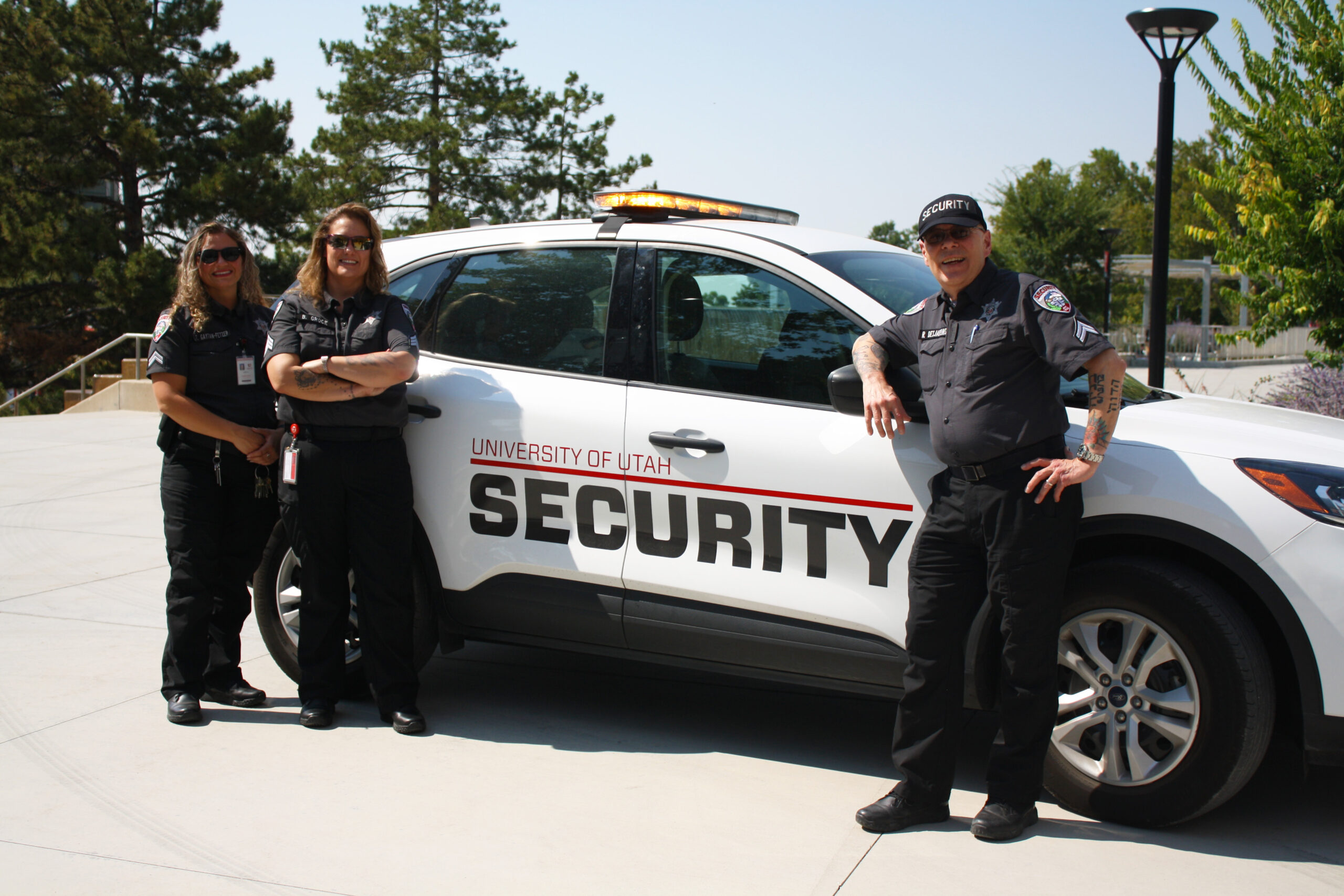 At the University of Utah, service-oriented security teams patrol the campus and hospital 24/7, assisting students, employees, patients and visitors with a variety of services.
There are two security teams at the U – one that focuses on the academic campus environment and one that serves the U's hospitals and clinics. These teams of unarmed, non-sworn personnel work in partnership with University Police and focus on providing safety support to the community.
These two University Safety divisions make up the largest part of the department, Campus Security with more than 40 employees, and U Health Security with over 100 security officers and support staff located throughout the health system.
In 2020, Campus Security provided 1,236 courtesy escorts and helped more than 600 motorists who had a dead battery, a flat tire, were locked out of their vehicle, or another similar situation. The U health Security team trained more than 1,000 University of Utah Health employees, students and campus partners in a variety of courses, including a "Workplace Violence Prevention" workshop.
"The U Health Security team is a unique division that provides specialized services and training to our medical staff," said Glenn Smith, director of U Health Security. "Our goal is to keep a safe environment where staff can provide the best service to patients."
One of the most popular services offered by Security on campus is the 24/7 courtesy escort, in which campus community members receive a free ride anywhere on campus. A security officer will drive to the caller's location and take them anywhere on campus. They aim to arrive in approximately 15 minutes, but response times vary depending on what other incidents the team is responding to at the time.
To request a ride, call: 801-585-2677
Commuter Services at the U also offers a free ride service called SafeRide. This ride share program allows campus community members to request a ride from one point on campus to another through an app. Student drivers provide this service during evening hours and it supplements the service provided by Security.
"We are excited to welcome so many people back to campus this fall," said Sean Ryan, Campus Security sergeant. "We take seriously our responsibility to help create a safe place and provide resources so our community can focus on the real reasons they are here."
Join the team
Both U Health Security and Campus Security are looking to fill officer positions. Students can apply and no prior experience is necessary as all training is provided. Security work offers a helpful experience for those looking to pursue careers in several areas, including criminology, public safety and social services.