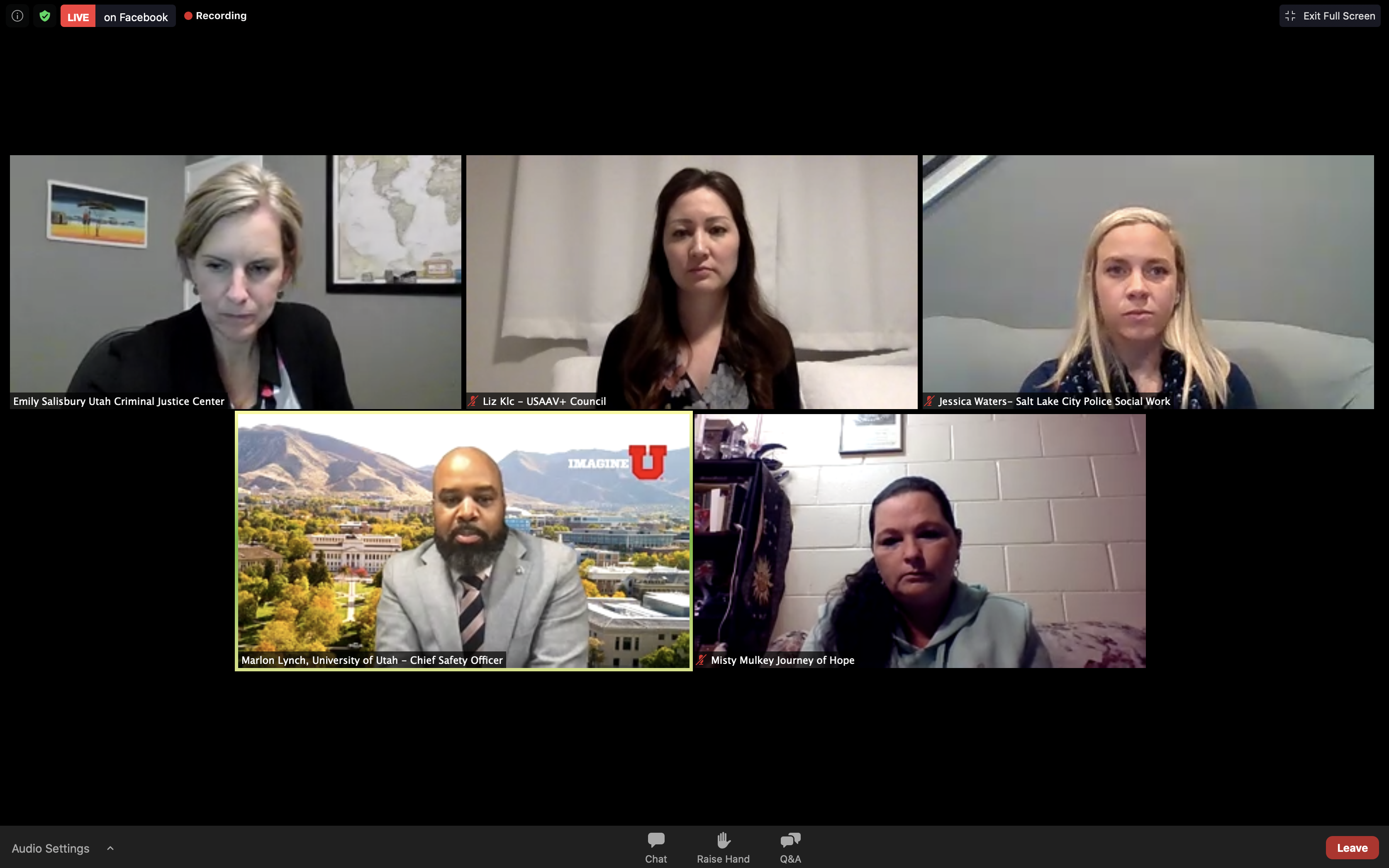 On Monday, Dec. 14, University of Utah Chief Safety Officer Marlon Lynch participated in a virtual panel discussion about the intersection of mental health and policing, hosted by the Better Utah Institute and League of Women Voters of Salt Lake.
In addition to Lynch, panelists included Elizabeth Klc, director of the Utah Substance Use and Mental Health Advisory; Jessica Waters, social work director with the Salt Lake City Police Department Mental Health and Substance Abuse Unit; and Misty Mulkey, peer leader at Journey of Hope.  Moderated by Emily Salisbury, director of the Utah Criminal Justice Center at the University of Utah College of Social Work, the group discussed how agencies could work together to "bridge the gap" between police and communities in Utah.
During the conversation, presenters spoke about the challenges faced by public safety servants in responding to and supporting those facing mental health crises. Panelists explored topics such as early intervention, better opportunities for underrepresented groups, understanding of police officers' needs and capabilities, and the connection between early traumas and mental illness.
Panelists agreed that it is crucial to provide education to Utah communities about how to access available resources and support from different service providers.
"Every agency plays a role," Lynch said. "There are resources established and options available to assist people, and police officers are not the only one. We need to continue to educate our public safety staff and our communities about it. We have to make it a campaign."
One of the themes centered on rebuilding trust in local, state, and national law enforcement. The panelists felt that collaboration, support, restructuring, and reconciliation are integral elements to the process.
"We are in the process of re-establishing the credibility of our department, and we are taking the approach of inclusivity," Lynch said. "The Public Safety Advisory Committee, co-chaired by two students, is an important part of that as we share our strategic initiatives and they share their feedback. We listen to them so that we understand what is important to them."
More than 160 people registered for the Zoom event, which was also broadcast through the Better Utah Institute Facebook page. It was sponsored by the League of Women Voters of Salt Lake, NAACP Salt Lake Branch, Better Utah Institute, ACLU of Utah, and the Utah Black Roundtable.