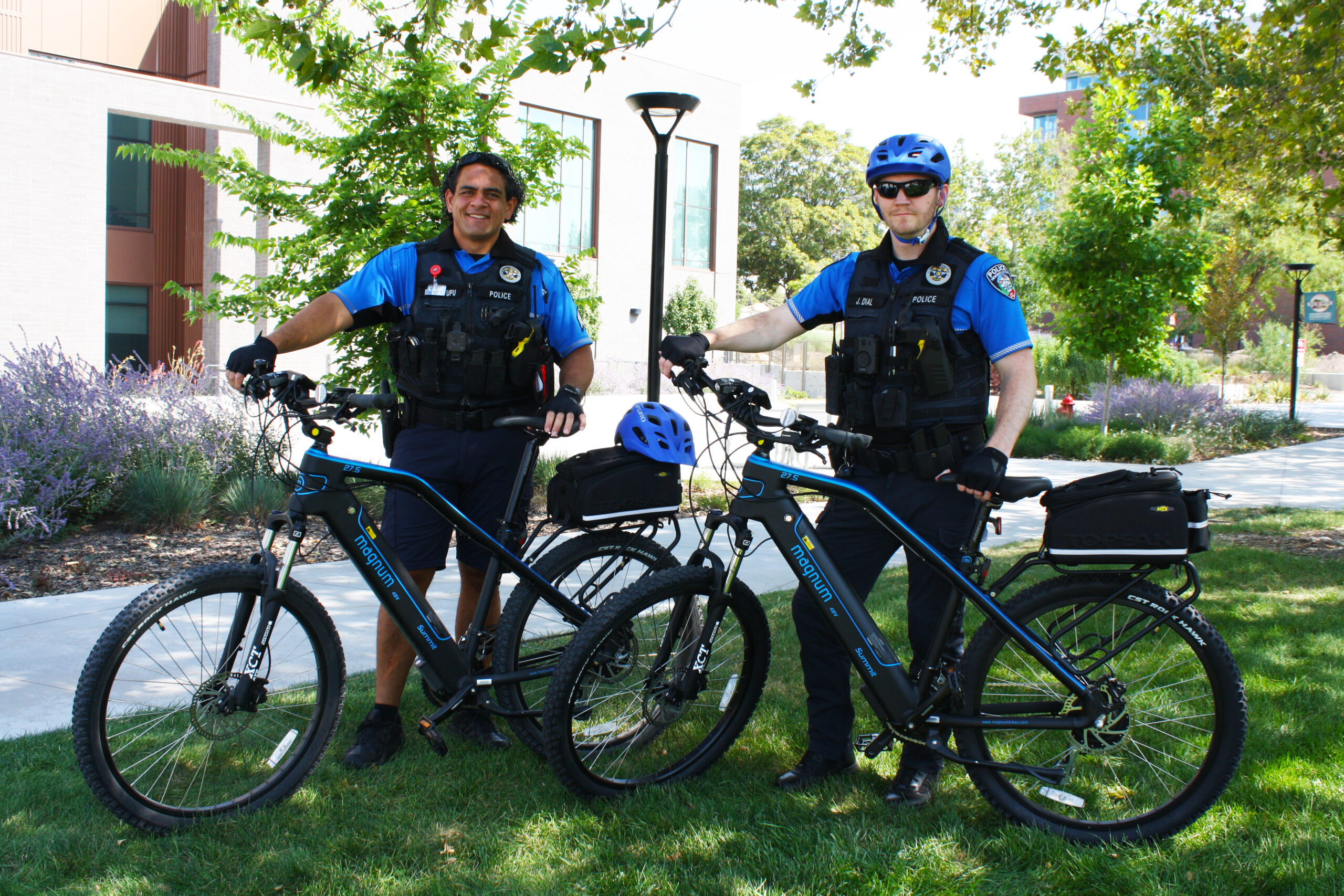 As part of the University of Utah's goal to reduce greenhouse gas emissions and achieve carbon neutrality, the U's Sustainability Office donated three electric assisted bikes (e-bikes) and bicycle equipment to University Police.
"The U is one of only 30 colleges ranked as a Gold Bicycle Friendly University by the League of American Bicyclists, so it is important to keep finding new ways to contribute to that commitment," said Ginger Cannon, the U's active transportation manager. "We cannot achieve carbon neutrality unless we reduce harmful emissions by driving less and transforming our university fleet to include more electric and cleaner-fuel vehicles. Our campus police had a need, and e-bikes provide multiple benefits for campus operations. It's a win-win for campus safety and our local air quality."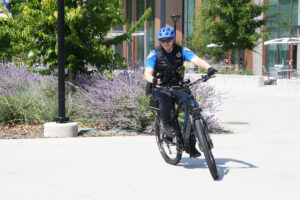 In 2020, transportation emissions accounted for just over 25% of the university's greenhouse gas emissions, according to the Sustainability Office. The university has adopted multiple plans, programs and policies to help expand sustainable transportation choices and reduce harmful vehicle emissions, but there is still much more work to do in the face of global climate change.
Police agencies across the country utilize electric bikes in daily operations. Some of the benefits linked to e-bikes are better response times and less fatigue upon arrival to calls, faster back-up in dense and high-traffic areas, and improved access to pedestrian zones and narrow passages.
"We are grateful to the partnership with the Sustainability Office to engage our officers in this crucial plan to reduce our carbon footprint on campus," said Shawn Bryce, associate director of University Police. "The use of these e-bikes will benefit our environment as well as our officers' health and operations."
Using e-bikes, officers will be able to expand their patrol area and cover more ground in less time. The U Police bicycle patrol unit offers a proactive community policing presence on campus as officers can access remote locations like the Bonneville Shoreline trail. Research shows bike patrol officers are more approachable to pedestrians and other cyclists. During big events, such as football games, this unit can also cover crowded areas quickly.
The e-bikes received by University Police were manufactured in Utah by Magnum Bikes, and the Campus Store offers similar models at a discount for employees and students.
What is an e-bike?
While there is no single, agreed-upon definition for what constitutes an e-bike, they are generally accepted to be any standard, pedal-powered two- or three-wheel vehicle that has an electric motor which can be used to assist the rider's pedaling efforts. In Utah, e-bikes are classified under state law, and have all the same rules and regulations as regular bicycles under traffic law.
Since 2019, many departments at the U have incorporated electric bikes in their operations, including the University Hospital, Research Park Real Estate Administration and U Facilities.
Ride your bike to campus all week for prizes, fun events, and to learn about safe cycling at the U. On Wednesday, Sept. 29, 11 a.m. - 3 p.m. at the Campus Bike Shop (across from the Utah Fine Art Museum), the first 50 students to come will receive a free U-lock when registering their bike with University Police. You must bring your bike and University ID Card!