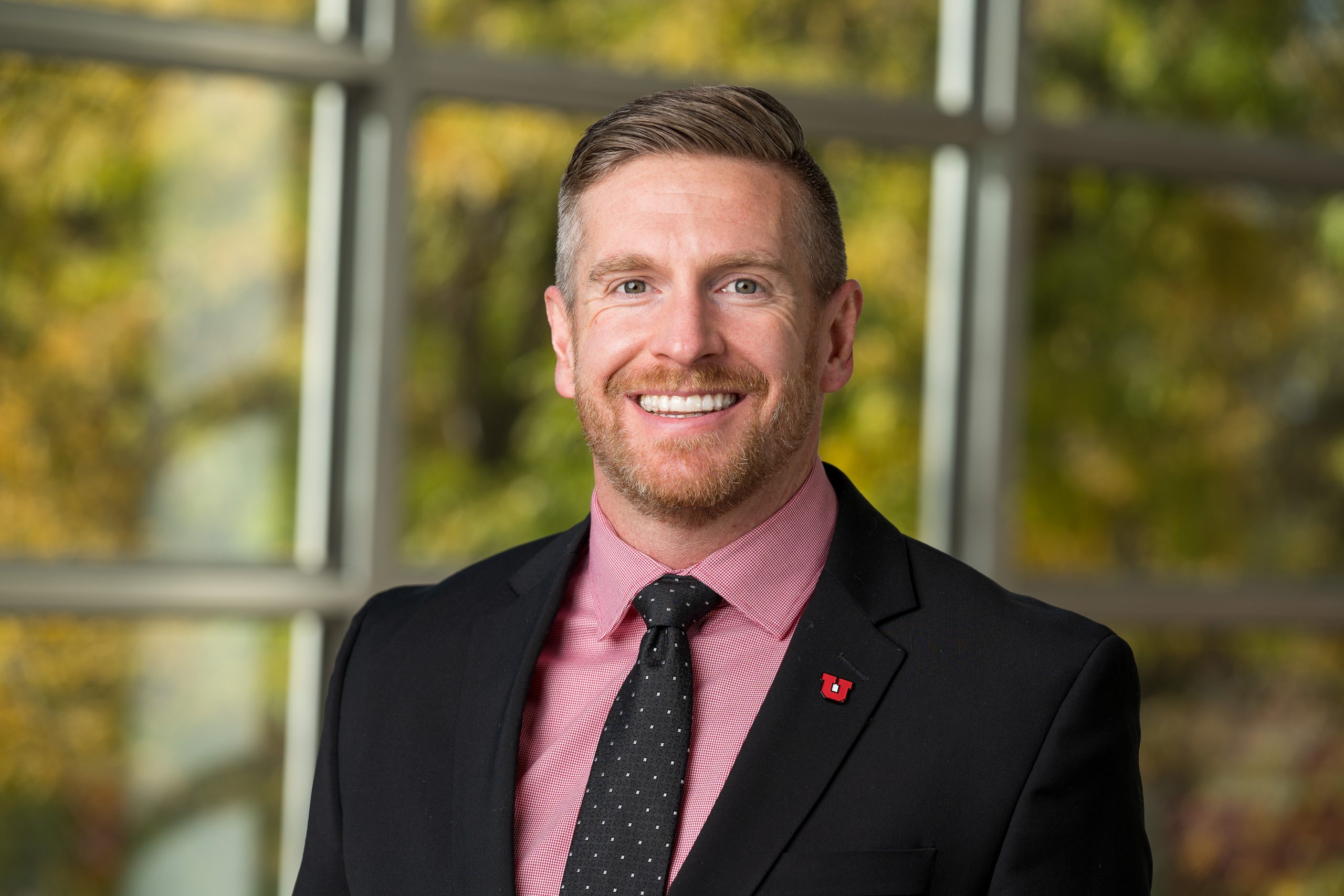 To support the University of Utah's commitment to safety, diversity, and inclusion, the Office of the Chief Safety Officer (CSO) recently hired a new liaison to coordinate community engagement initiatives with organizations across campus, as well as implement new response protocols developed by the Racist and Bias Incident Response Team. Special Assistant to the CSO Brian Nicholls will work closely with Student Affairs and the Office for Equity, Diversity, and Inclusion (EDI) to evaluate and improve university safety efforts comprehensively.
"This new position is vital to achieving our vision of uniting for a safe and empowered campus community," said Marlon C. Lynch, the U's inaugural Chief Safety Officer. "Safety is integrated into so many aspects of campus life, and Brian will play a key role in coordinating these efforts and in building relationships with student, faculty, and staff organizations on campus."
Nicholls is a long-time U community member, having been involved for over 20 years. He earned both a bachelor's degree in communication and a juris doctorate from the U and worked in the U Office of Equal Opportunity and Affirmative Action for the past 10 years, most recently as associate director.
"By creating this position, it is clear the U is making an effort to improve safety and acknowledge the role that equity and diversity play in that equation," Nicholls said. "I feel honored to be in a position to coordinate this work with so many agencies across campus."
Nicholls's goals for the next semester revolve around building connections with the campus community by reaching out to established student groups, fraternities, cultural centers and organizations; developing relationships with students who are not part of organized groups; and connecting with students who live on campus and with faculty and staff through Human Resources, Staff Council and the Academic Senate.
"We're thrilled to have Brian as a partner in creating an inclusive and welcoming campus environment," said Vice President for Equity, Diversity, and Inclusion Mary Ann Villarreal. "Safety and EDI work are everyone's responsibility, so it is imperative that we approach this holistically and focus on creating a supportive culture."
Racist and Bias Incident Response Process
One of Nicholls's primary responsibilities involves coordinating the racist and bias incident response process developed by the Racist and Bias Incident Response Team.
Initially established under former Associate Vice President for the Office of Equity and Diversity Kathryn Bond Stockton, Villarreal updated the committee in 2019 and charged it with overseeing the creation and implementation of university protocols, programs and processes to provide appropriate and calculated responses involving bias incidents and racism on campus.
For the past year, the Racist and Bias Incident Response Team, co-chaired by Associate Vice President and Dean of Students Jason Ramirez and Annalisa Purser, director of administration of the Office of the CSO, have met regularly to develop a coordinated approach for responding to racist and bias incidents on campus. The committee recently launched a new centralized reporting form, available on a variety of websites across campus. Reports will be routed to Nicholls and other members of the committee so they can begin the process of responding to the incident and communicating with those who were exposed to the incident or are otherwise affected by it.
The goal is to facilitate appropriate and timely responses, increase transparency surrounding these incidents, track their status and gather data that can be used to inform future efforts. In his new position, Nicholls will serve as a bridge between various offices to move this process forward.
"The timing is perfect to implement this process across the entire university," Ramirez said. "With new leadership in Safety, EDI and Student Affairs, there is a lot of energy focused on integrating efforts aimed at fostering a welcoming, inclusive and safe culture."
More information about the Racist and Bias Incident Response Team and process is available at https://diversity.utah.edu/initiatives/rbirt/