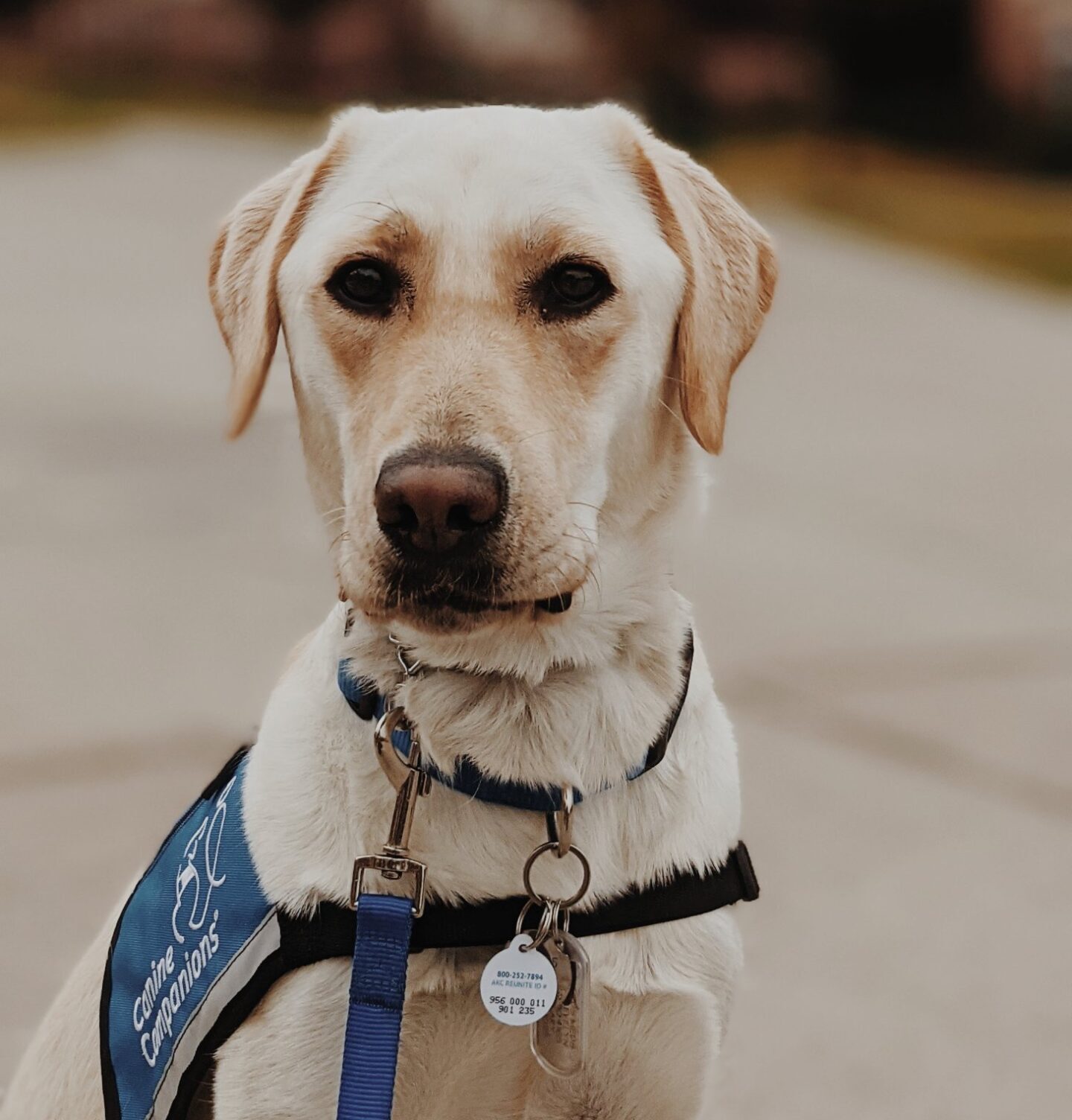 The University of Utah Safety Department's Community Services division acquired a facility dog, Dreamy, to provide trauma-informed care and supportive services to survivors of harm on campus. The dog was obtained in partnership with the national nonprofit Canine Companions® which is leading the service dog industry to provide service dogs to adults, children and veterans with disabilities and facility dogs to professionals working in healthcare, criminal justice and educational settings.
"In her day job, Dreamy will be working with people who have been harmed and experienced interpersonal violence and other crimes," said Crisis Support Specialist Evelyn Cervantes. "Our clients deserve to feel love in their lives, and Dreamy is just one way for us to show them there are beings out there that love them just as they are."
Dreamy is a Golden Retriever-Yellow Lab mix and is certified as a facility dog according to Assistance Dogs International standards. Facility dogs are handled only by facilitators (handlers) who have gone through a full-time, two-week training program that includes multiple written and practical tests. Social workers Evelyn Cervantes and Hilary White completed the training through Canine Companions. Dreamy lives on campus with Cervantes, who is the primary handler.
Dreamy is trained to complete over 40 commands, including providing deep pressure by lying down on top of a person indicated by the handler; loading into a vehicle; picking up items with her mouth, and placing her front legs across a person's lap.
Trauma-informed care provides support services in a way that is accessible and appropriate to those who may have experienced trauma to avoid the possibility of triggering or exacerbating trauma symptoms and re-traumatizing individuals. The approach focuses on offering compassionate staff, specialized services and encouraging a more welcoming environment. Facility dogs are one way to support this methodology.
Facility Dog or Therapy Dog: What's the Difference?
In their handbook, the nonprofit organization Canine Companions explains that facility dogs undergo a two-year, extensive and specialized training program and learn over 40 commands. They are specially bred for this line of work, and the tasks they are trained to perform are used to help motivate and often rehabilitate clients within the facility where they are working. On the other hand, therapy dogs can be any pet dog that has permission to enter a public facility to provide comfort or joy to patients or clients.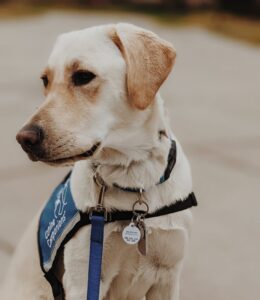 Age: two years and a half
Likes: long walks, playing fetch, and cuddling
Dislikes: being told not to sniff things